Avinash is our in house creative genius who is always on the lookout to convert the creative ideas floating in his head to any medium where they find the right expression.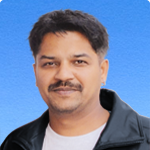 He combines his creativity with technical knowledge to come up with ground breaking UI/UX ideas for our clients. Avinash has 10+years of work experiences in Web Design, Graphic Design and Animation and leads the Design Team. He utilizes his skills to come up with pleasing and easy to use interfaces across multiple devices. He coaches his team maximize their potential delivering high quality projects for our clients. He is also involved in project and client management.
Avinash specializes in building Responsive layouts, Integrating design in various CMS like wordpress, Joomla etc and Sharepoint Branding. His designs are creative, unique, clean and user-friendly. Always keen to try out upcoming standards and technologies like HTML5 & CSS3.
HTML5 & CSS3, Joomla, Wordpress, Illustrator, Dreamweaver, Photoshop, InDesign, UX/UI Design and Flash are his best friends.