Staff Augmentation
Since 2004, NuAge Technologies has focused on offshore teamwork, seamlessly integrating Canadian and Indian resources to provide end-to-end support for insurance applications, infrastructure and business processes.
Focus on strategic IT programs. Accelerate IT project deliverables. Eliminate project backlogs. Increase capacity while minimizing risk. Reduce labour costs by up to 70 percent.
NuAge's services are focused on getting results Staff Augmentation Services include:
New product launches
Production support
Implementations
Help desk
Legacy maintenance
Application development
Enhancements
Upgrades and migrations
Third-party integrations.
Application Developers

Database Administrators

Project Managers

VB6 and classical ASP
.NET (VB and C#)
Java, J2EE
ColdFusion

Microsoft SQL Server
Oracle database
Microsoft Access

OS Migrations
Desktop Roll-Outs
Product Acquisition Coordination

Solutions Architects

Systems Engineers

Technicians

Create Design Plans
Implementation Plans
Third Party Validation

Network Consulting
Network Upgrades
System Upgrades

Break/Fix Services
Periodic Health Checks
Patch Management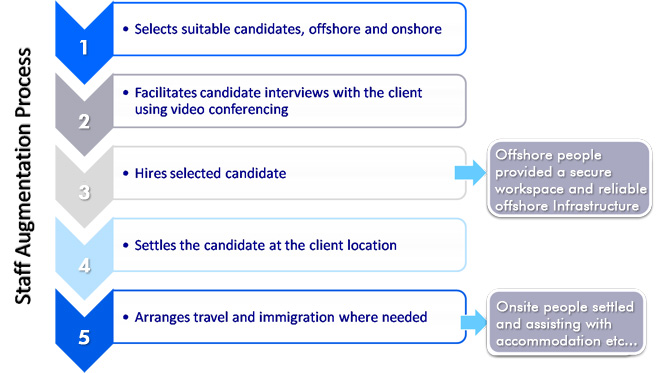 Benefits
No need to pay federal, state, local, or unemployment taxes.
Flexibility of resources – Anytime available extension to your team
Rare hard to find skill sets will be provided
Your company can save 20% - 30% on payroll expenses.
NuAge conducts all interviews and reference checks of potential associates.
NuAge obtains background investigations.
All administrative tasks associated with hiring new staff augmentation associates are handled by NuAge.
Clients will receive profiles for all staff augmentation associates for your records.